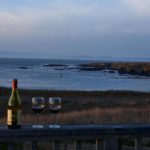 Sunrise Vacation Home
Our Plotting Madness boot camp in the Mendocino is held at The Inn at Schoolhouse Creek in a gorgeous vacation home. Stay at the inn or nearby at one of the area's fine accommodations. Or grab one of two rooms in the house itself. In this warm, inviting ambiance, we'll gather each day, Monday-Wednesday, for our boot camp.
This spectacular modern craftsman style home offers a perfect blend of luxury, privacy and the spirit of the Mendocino Coast. Mendocino Sunrise, perched on the bluffs overlooking Russian Gulch and the Mendocino Headlands, beautifully combines old-world artistry with a relaxed contemporary style.
White water ocean views are captured from every room and, for the early riser, the south facing design provides spectacular sunrises and morning light while providing protection from the coast's north winds.
Features include: a bright and airy great room with 18-ft vaulted ceilings, exposed timbers, a well-designed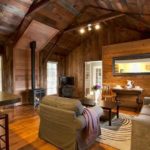 galley kitchen with top-line appliances, and large glass doors that open on to great redwood decks. In-floor radiant heat provides "quiet" warmth while the Waterford wood stoves offer romantic ambiance and all the peace and quiet one could want.
Mendocino sunrise vacation home provides guests several opportunities to relax and enjoy your time away; from an old world Scandinavian sauna to the oversize soaking tub to the serenity of a private "basking garden" for ocean view meditation to private ocean access that is just a stroll away.
Two gorgeous guest rooms are available for rent during the retreat (Catharine and Susanne will be staying there as well). Contact us at writingforlifeworkshops@gmail.com to inquire about rates and booking policies.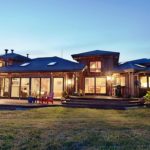 The Inn at Schoolhouse Creek is located in Little River, just 3 miles South of the Village of Mendocino, on the beautiful Mendocino Coast. It sits just 7 miles north of the intersection of Highway 128 and US 1, and 11 miles south of the intersection of Highway 20 and Highway 1.